Links and Banners
Here you will find fellow sites and sites I usually visit, many of them HIGHLY recommended!
Fellow U2 Sites
Send me your banner to place it here!
(Sitio Oficial /Official Site)
(mi lista de dvds para intercambio / my dvd trading list)
Mferrusca's Uncertainty... can be a guiding light.
(Mi Primer Website / My First Website)
(completísimo y preciso / super complete and accurate since 1997)
(las últimas noticas / home of the latests news)
www.artistasdelanada.org/desire
(Español / Spanish)
(Fotos geniales y navegación muy original / Great Pics and Navigation)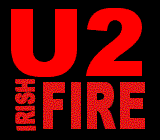 (U2 Tribute Site from Argentina / Sitio Tributo a U2 desde Argentina)
(Home of the U2 Pager)
(A feminist approach of being a U2 fan, great site!)
PopLemon At* U2

(Noticias sobre la gira / Tour News)
(Antes In God's Country / Previously In God's Country)
(U2 fansite community)
(Excelente fotos e info sobre la gira / Great Tour Photos and Info)
(Fotos asombrosas / Fabulous Pictures)
(español / spanish )
Under a Smoke Gray Sky Fan Club
(club de fans mexicano / Mexican fan club)
(Multimedia, portadas mp3s EN FRANCÉS / media, covers and mp3s IN FRENCH
(Noticias, letras y multimedia / News, lyrics and media)
www.u2guatemala.com
(Desafortunadamente no existe ya / Dead unfortunatenly)
(Noticias y multimedia / News and media)
(Setlists y mp3s /Setlists and mp3s)